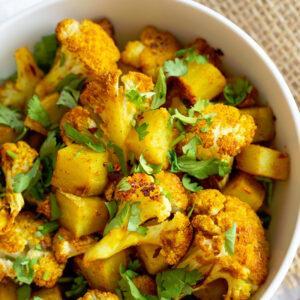 Ingredients
Shredded ginger 2 inch
Coriander powder (dhania) 3 teaspoons
Turmeric (haldi) 1/4 teaspoon
Cayenne pepper ( lal mirch) 1/4 teaspoon
Water 3 tablespoons
Oil 3 tablespoons
Pinch of Asafetida (Hing)
Cumin seeds (jeera) 1/2 teaspoon
Sliced in long pieces 2 green chilies,
Leaves 2 bay
Salt (to taste) 1 teaspoon
Mango powder (amchoor) 1 teaspoon
Of chopped cilantro (green coriander) 2 tablespoons
1/4 cup water as needed
Cut cauliflower (cut into small florets 2 cups
Potatoes (cubed into bite sized pieces) 2 medium
Method
In a small bowl, mix the shredded ginger, coriander powder, cayenne pepper, turmeric, and 3 tablespoons of water to make a paste.
Heat the oil in a pan. Test the heat by adding one cummin seed to the oil; if seed crack right away, oil is ready.
Add hing and cumin seeds to the oil after seeds crack add the bay leaves and green chilies and stir for a few seconds.
Next, add the spice paste and stir for a minute until spices start leaving the oil.
Add cauliflower, potatoes, 2 tablespoons of water and salt. Mix well. Cover the pan and let it cook on medium heat for about 15 to 20 minutes until the vegetables are tender. Make sure to stir gently every 3 to 4 minutes.
Lastly, add the mango powder and fresh cilantro (green coriander). Mix everything and cover for a minute. Adjust the salt to your taste.
Variations: Add some green peas and/or sliced red bell peppers. The red bell peppers should be added at the end of the recipe as they cook quickly.
Tip: Making a paste with the spices will prevent the spices from burning.